What Is A BBQ Wire Mesh
Barbecue net is a product made of metal processing, the Chinese-made products are divided into one-time barbecue net and barbecue grill repeatedly. One of the most popular barbecue network, in Japan, Canada, Argentina and other parts of the world are very popular. The reason why the grill is divided into two kinds, it is because the two used by the material is different, one-time barbecue wire mesh material is generally changed to pull the galvanized wire, wire edge is made of tinplate . For multi-use barbecue network, its material is made of medium carbon steel and 304 stainless steel wire made.
The surface of the grill net adopts the treatment methods of galvanization, electrolysis, polishing, chrome plating, nickel plating and copper plating to make the product have the characteristics of high temperature resistant, no deformation, no rust, non-toxic, tasteless and easy to use. Mainly used for restaurants, restaurants, barbecue shops, picnic, camping, military, tourism and other activities pasta, meat, fish barbecue, steaming, smoked, won the roast lovers of all ages.
A wide range of barbecue network, can be divided into the following categories:
According to the shape can be divided into: a circular flat barbecue net, a round concave grill mesh, square flat grill mesh, square concave grill mesh.
According to the material can be divided into: galvanized wire barbecue wire mesh, galvanized wire barbecue net, stainless steel barbecue net.
According to the handle can be divided into: barbecue with barbecue (also known as barbecue), barbecue without handle.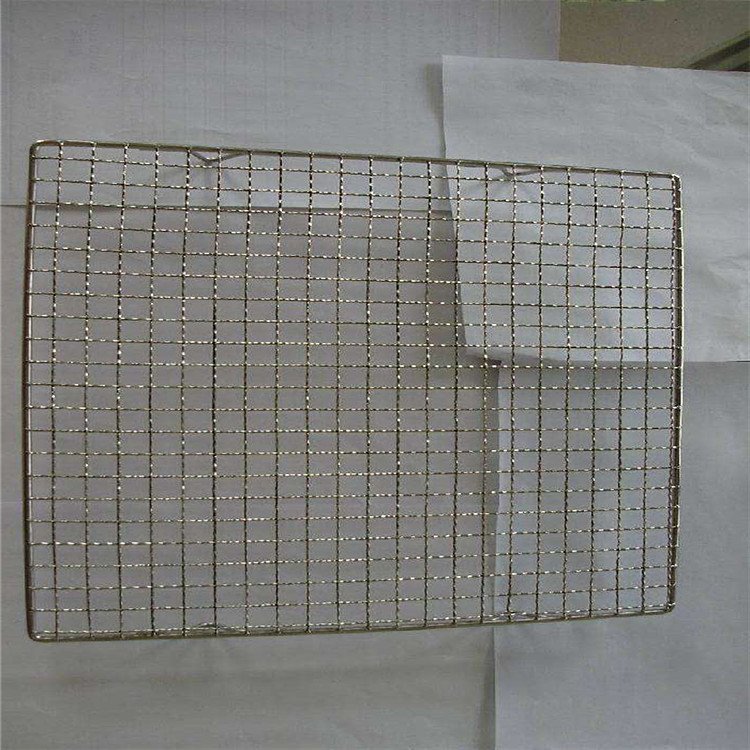 In all the barbecue network, the most common square barbecue network, square barbecue network is the use of high-quality stainless steel wire, wire braided or welded into a square screen, and then deep processing of the resulting grilled mesh.
Square barbecue mesh surface is the use of welding treatment is the wave-shaped woven wire mesh welded to the wire frame, and then cut the edge of the wire, and finally through the galvanized grill network, it is also commonly known as galvanized Barbecue net.
Square barbecue net surface bright and clean, nice shape, durable, barbecue does not distort, is a kind of grill favorite barbecue network.